The importance of staying on top of things cannot be stressed enough in project management. One missed deadline and the entire project can go off track.
This is where Gantt scheduling software becomes an extremely important tool for project managers. It allows them to juggle between people, tasks, and projects.
What is a Gantt Chart?
In project management software, Gantt charts come in handy for visually presenting a project schedule to understand:
Who is assigned to a particular task
The task duration
When a task is completed
The overlapping activities and interconnected tasks
Think of a Gantt chart as demonstrating key tasks that are plotted against the 'time' component.
The Importance of Gantt Charts
Whether you use a free Gantt chart maker online or Gantt chart software, this tool is beneficial in understanding the key activities as well as the progress of a project.
Here are ten compelling reasons why a Gantt chart maker online is advantageous for organizations and project managers alike:
Key Feature of a Gantt Chart Online Tool
Proposed Benefits
Demonstrates task dependencies

Helps project managers understand when a task can begin once the previous task is completed
Aids managers in understanding when a task must be completed as well as understanding what (or who) the predecessors and dependencies are

Offers a bird's eye overview of the project, including its tasks and time-frame

Allows project managers to get an understanding of every player involved in the project – whether it's individual team members or key stakeholders such as project sponsors, executives, and so on
Improves project clarity as managers can effectively:

– Identify relevant tasks

– Conceptualize an accurate project plan in real time

– Better define the project scope

Enables data-driven decision-making

Empowers project managers to understand project pain points and roadblocks better
Enables them to undertake important decisions regarding how to take the project forward

Enables effective project scheduling and planning, particularly of concurrent tasks

Delivers a super-useful functionality called the 'Timeline' view, which helps project managers understand:

– The length of a project

– The level of resources required for the project

– The various task dependencies at play

– How to plan properly in that the project is completed on time and within budget

Paves the way for better project tracking

Helps project managers get into 'track' mode by enabling them to track tasks, milestones, and the overall workflow
Throws light on potential issues and/or concerns (such as a task that is past the due date, for instance) so that project managers can take the right proactive measures and course-correction steps

Boosts productivity

Lays the foundation for increased collaboration between workers, ultimately boosting production efficiency
Offers in-depth visibility into task progress and helps team members stay laser-focused on tasks they need to accomplish
Drives increased transparency, ensuring every team member is held accountable for their tasks

Provides insightful and actionable reports and analytics

Helps keep track of the project plan and generates comprehensive as well as actionable reports on the team's progress

Illustrates task overlaps as well as project dependencies

Illustrates how multiple tasks intersect and come together in a project
Demonstrates how a task can only begin if the previous one has been completed
Enables project managers to schedule activities and allocate key resources without stymying the project's progress

Manages critical and complex data visually

Provides visual clarity and simplifies an increasingly complex set of tasks
Helps project managers analyze the critical route of a project so that they can focus on the most meaningful and vital tasks first and complete them on time
Depicts tasks linearly and simply, boosting project understanding among all stakeholders

Aids multi-project management and reduces the time taken to set up, monitor, and manage small- and large-scale projects

Helps project managers truly multi-task and manage diverse projects in one go
Enables project managers to assign proper resources at the right time and balance key activities within each project
Apart from the innumerous benefits outlined above, you can make use of a free excel Gantt chart template to:
Set realistic deadlines as well as stakeholder expectations for a project, owing to the simple-to-understand visual depiction of the project progress. This also helps managers compare planned versus actual timelines so that the project deadlines are more realistic as well as achievable.
Motivate team members to literally visualize their roles and responsibilities within a project, which keeps them dedicated to their end goal. Plus, this improved visibility helps individuals stay on top of their tasks and complete a project with greater efficiency.
Improve team communication and collaboration and help align everyone on the team, including the remote workers. Additionally, it reduces the need for frequent meetings regarding project status as the team is always up to date on progress as well as changes.
GamePlan: The Best Gantt Chart Software Out There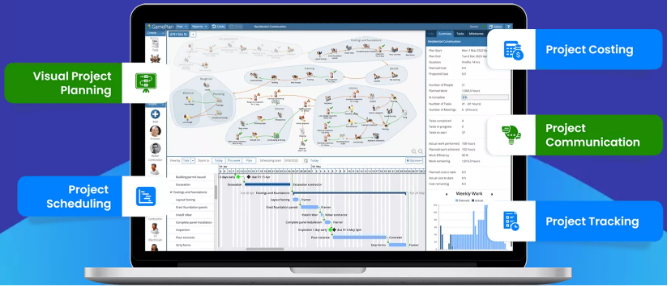 GamePlan is a multi-purpose, visually-driven planning, scheduling, costing, tracking, and communication tool that helps organizations to complete projects on time and within the stipulated budget.
So, What Makes Game Plan Different from the Rest of the Gantt Chart Tools?
Glad you asked. Here are five features that this tool offers which make it a cut above the rest:
Get easy buy-in from everyone: GamePlan visually communicates critical project information in a way that everyone understands it inside out. This means that it gets increasingly easier to get buy-in from all stakeholders, especially since the plan is well understood by everyone.
Learn and improve on the go: The tool empowers project managers to have a permanent record of the plan and the actuals at their fingertips. This means you extract actionable insights into what's working for the project and what's not so that you can make data-powered improvements the next time.
Leverage its innovative virtual whiteboard: Generally speaking, in any type of scheduling software, you need to create a project schedule by typing a list of tasks into a Gantt chart – a tedious process by any stretch of the imagination. GamePlan takes a different approach. You can plan your projects as if you were brainstorming with your team in a conference room. In other words, you don't need to create a one-dimensional list of tasks. Instead, you can use the whiteboard to dynamically map out the project using a combination of symbols, text, and arrows to show tasks and dependencies. All in all, simply plan your projects by drawing your project workflow on the virtual whiteboard:
Take advantage of its powerful scheduling engine: Once you've drawn out the project plan, GamePlan's intuitive scheduling engine takes over. If you make a change on the whiteboard, the tool's scheduler automatically updates the project schedule and displays it in a Gantt chart. The Gantt chart also shows your entire project timeline, including when all deliverables will be met and when the project will get completed: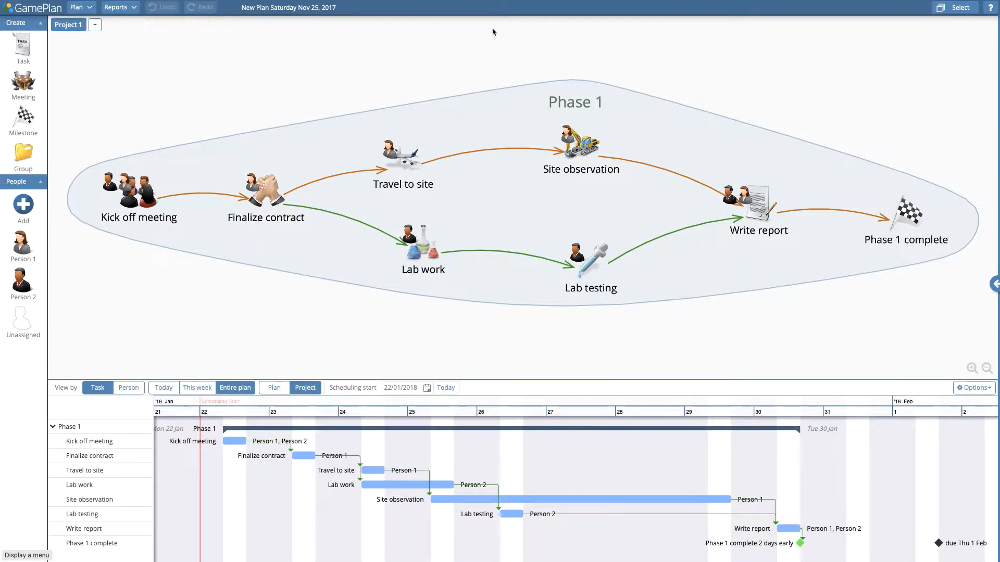 Use the innovative schedule feature, which is resource-leveled: GamePlan's schedule feature is resource-leveled. This means that no one will ever be double-booked on your project. Plus, the schedule becomes realistic and achievable so that you can publish your deliverable dates with increased confidence. GamePlan's Gantt chart is creative and dynamic and delivers a positive user experience, paving the way for improved project planning and execution.
The learning: The GamePlan visual project planning and scheduling software produces a daily agenda for everyone to follow so that your team gets clear directions on who needs to do what tasks and when they need to do them once your project is underway. This is an important element to track in any project as there will always be unforeseen delays. This ensures that your project status is always up-to-date and also shows you exactly how the delay affects the project deliverables. Finally, it gives you the tools to determine how best to bring the project back on schedule, making it a win-win for all.
The Bottom Line
At its most basic form, a free online Gantt Chart can be thought of as a project timetable – one that represents how a project will progress during a project lifecycle.
GamePlan is a powerful and innovative visual tool that automatically generates Gantt charts, taking into account resource capabilities. This makes it more accurate.
In simpler words, project managers can benefit from this type of tool as it breaks down key tasks into smaller, more easy-to-digest chunks and represents them on a visual timeline. Try Gantt chart software for yourself and see the difference.
Subscribe To Our Newsletter
Get updates and learn from the best
Gantt charts are like the hit Korean drama Squid Game–people either love it or hate it (because they don't get it). Moreover, research indicates that Gantt Charts
Projects today no longer follow a linear path primarily because projects have become exceedingly data-rich (think: data related to labor estimates, capital costs, operational expenses,