Project management is an art and an exacting science. By this definition, project managers should be artists and scientists, right? In many ways, this is true.
A project manager needs to don multiple hats and multi-task their way to success. From planning projects to managing people's expectations, the playing field is huge.
A project manager's primary goal is to ensure that the project gets completed on time, within the stipulated scope, and within the estimated budget. If you've ever wondered about how to be a better project manager, this handy guide might be a good place to start.
Before we deep dive into the project management strategies, let's understand what makes a good project manager.
How to Be an Effective Project Manager: Important Skills and Prerequisites
Leadership
To prevent projects from spinning out of control, project managers should demonstrate leadership qualities. Effective 'markers' of strong leadership include:
Understanding the project process like the back of their hand and communicating the same at all times. This includes understanding the need for the project and the key pain points/problems it is trying to solve.
Driving conformity by understanding cultural nuances (read: different time zones, varied languages spoken, body language, speaker's tone, etc.), particularly if the team is geographically dispersed.
Minimizing the length and frequency of meetings and exercising restraint by keeping meetings to one a day to boost employee productivity as 49%

of workers feel that unfocused meetings are the biggest time-killers

Listening to team members, stakeholders, and product owners from a place of empathy, patience, mindfulness, and compassion instead of getting personal bias in the way.
Filtering out unnecessary information and relaying the necessary details to stay on track.
Focusing on establishing a relationship among the team members through fun and interactive activities such as team lunches, happy hour, and so on.Setting clear post-meeting action items and summarizing who is responsible for what after every meeting is important.
Problem-solving
Project managers should be able to think on their feet and arrive at realistic solutions as the demands change. The need of the hour is for project managers to resolve issues as and when they arise instead of troubleshooting at the very end (when it might be too late). Additionally, they should empower others to take accountability for the issue and problem-solve it themselves instead of doing everything single-handedly. Furthermore, to get stakeholder buy-in, project managers should talk in the language executives prefer. For example, they should talk about profit growth and not budget when communicating project costs.
Flexibility/Adaptability
One of the most important qualities that every project manager should embrace is the ability to be flexible as well as self-aware and accept criticism themselves. If they're too set in their ways, the project might suffer. Plus, project managers should always have a backup plan ready and must include a buffer time for project delivery timelines.
Communication
For a project to run successfully from start to finish, communication is key. Project managers should not begin a project until they fully understand it – from the deliverables expected to the stakeholder expectations, every aspect should be crystal-clear. This is why every good project manager needs to focus on driving open, clear, concise, and healthy two-way communication between internal and external stakeholders and project sponsors. This can be done by:
Encouraging team members to share their suggestions, ideas, opinions, etc., at every stage of project progress via emails, status reports, and project plans. This involves communicating about 'shared beliefs' and 'end-goals' to drive a greater sense of belonging.
Conducting weekly group check-ins and one-on-one meetings to help team members share their experiences.
Providing them with the right forums, communities, and groups for initiating an open dialogue for added support.
Offering team members access to the right information as easily and conveniently as possible via apps.
Managing stakeholder expectations by creating a communication plan, which includes components such as audience, channels, purpose, updates, etc., and measuring efficacy throughout the project lifecycle.
Talking transparently to clients about project revisions, changes in scope, increase in duties, and so on.
While deadlines/scope/budgets may vary, communication should stay consistent across all stages of project development. This eliminates chances of error, confusion, or misunderstanding.
Top 5 Project Manager Tips and Tricks Every PM Needs to Know
1.  Understand your team member's natural talents to drive smart decision-making.
Before you start assigning roles and responsibilities, it is critical to get a complete understanding of your team's strengths and weaknesses, and more importantly, their capacity as well as current workload.
Once you identify these, you can create a strategic project schedule – one that leverages each member's natural talent and skills in the best way possible.
2.  Learn from other project managers to improve your project management process.
Seasoned project managers understand the importance of learning from others' experiences. The idea is to network with PMs in other departments to learn from their failures and successes.
You can also reach out to external PMs on social media channels such as Twitter and LinkedIn, via books and podcasts, and through conferences as well as webinars. The end goal is to be looking at their project workflows (if they're using a specific project management tool) and understanding their work style.
Furthermore, this strategy can also help you to try out different project management approaches and techniques that you might not have tried yet to get better results.
3.  Evaluate the team's performance. 
Evaluating the team's performance post-project completion is essential. There are multiple ways to go about this. You can:
Review the project once the deliverables are complete to review the team's performance.
Initiate a 'Team Meet' to take stock of what went right and what could have been better in terms of delivery.
Give shout-outs to team members for their accomplishments and thank everyone for their contribution. Gratitude does go a long way. You can also leave positive reviews on LinkedIn and motivate team members to work better.
Make a list of areas where the team struggled and make a proactive plan to ensure that the issues do not recur in the next project. 
4.  Select the right project management tool.
The days of manually managing projects are gone. Every project manager needs a robust and centralized project management tool. Think of an all-in-one project management software as the 'sidekick' every manager needs to handle projects with increased speed, precision, and accuracy.
From organizing everyday tasks and creating custom workflows to time-tracking and gaining full control of the project, project management software is well worth the investment.
Here are a few ways in which a project management tool can do much of the heavy-lifting:
It empowers managers to assign tasks and subtasks to individual team members.
It helps them create standardized templates of the systems, processes, and methods, saving time and effort for future activities. Your template can include key components such as content, storyboarding, visuals, timelines, roles, the project's critical path, and so on.
It can help identify risks and monitor deviations in real-time with the help of tools such as Gantt charts, Kanban boards, etc.
It can drive teamwork and synchronized communication, ensuring everyone is on the same page at all times. Managers can leverage the chat tool to discuss ideas, share feedback, and drive group discussions.
It can drive proactive communication with clients by leveraging tools such as emails, ensuring that the client's expectations can be continuously met.
It acts as a centralized document-sharing system where users can upload, organize, and view updated files simultaneously.
It allows key stakeholders to access project details anytime, anywhere, and that too, at the click of a button. Users can view the project progress on a website or an app, paving the way for a seamless experience.
Finally, it can standardize and customize workflows as needed to work with agility and meet targets on time.
According to recent research by Capterra, here's how a project management tool can empower project managers to work 'smarter':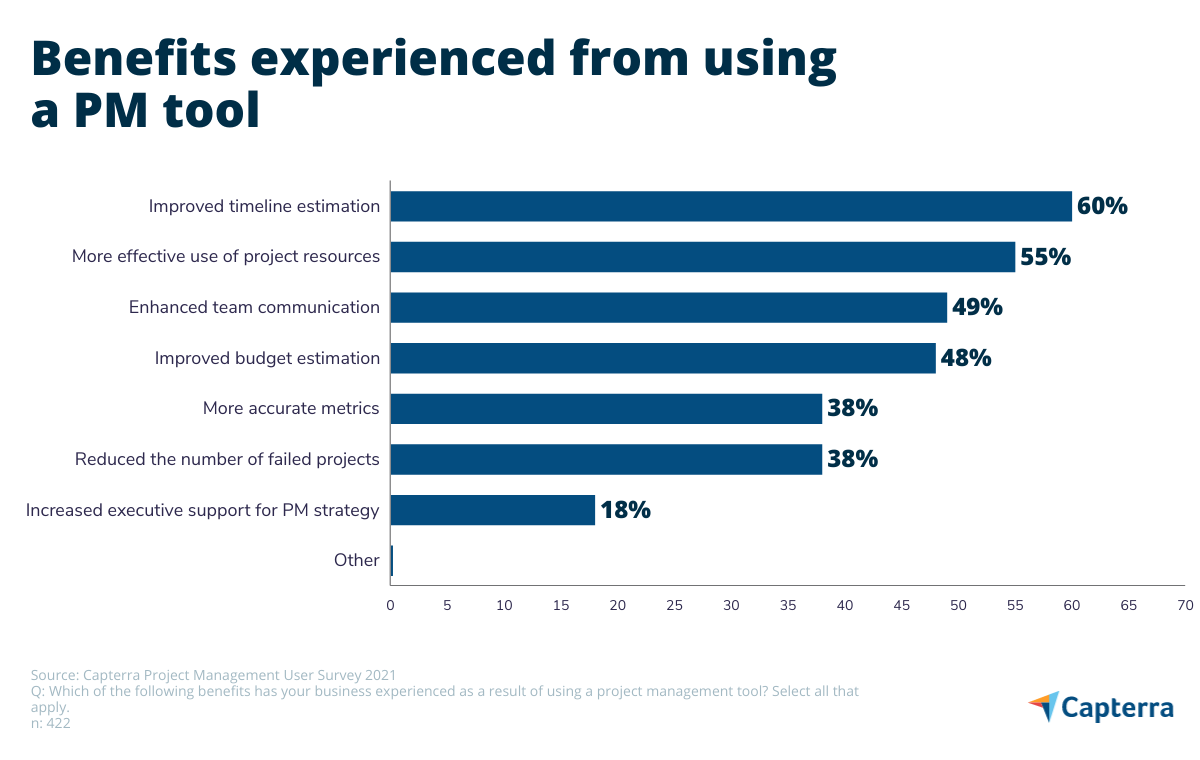 5.  Set specific, measurable, attainable, realistic, and time-bound project goals. 
When deciding on the project goals, make sure to follow the S.M.A.R.T framework for an intuitive and simple goal-making process. S.M.A.R.T goals are typically more long-term in nature. They include the primary goals of the organization and are a collective effort by the team.
An example of a S.M.A.R.T goal includes improving team productivity by leveraging a cloud-based file-sharing system to ensure easy and convenient access to resources. Viewed in terms of the S.M.A.R.T perspective, here's how this goal should look:
Specific: The goal is to boost productivity by 10% by investing in a new file-sharing system within [xyz] budget.
Measurable: To implement a new file-sharing system, a team of two people will need to be set up. With the right metrics, productivity levels can be analyzed.
Attainable: Productivity can be improved via a robust file-sharing system.
Realistic: The file-sharing software can directly boost productivity, making it realistic.
Time-bound: The productivity levels should increase within three months of execution.
Tying it All Together
"The role of the PM is first and foremost to create an environment in which the PM's team can be successful—nothing more, nothing less." – Chris Field.
Getting the team to the finish line is a collaborative process. Effective project management cannot happen in isolation. As they say, every project manager is only as good as their team, so make sure to focus on your project's biggest asset at every milestone of project development: your team members.
Subscribe To Our Newsletter
Get updates and learn from the best
Gantt charts are like the hit Korean drama Squid Game–people either love it or hate it (because they don't get it). Moreover, research indicates that Gantt Charts
Projects today no longer follow a linear path primarily because projects have become exceedingly data-rich (think: data related to labor estimates, capital costs, operational expenses,